Nationwide Service
Fabricast serves multi-national and British industries; our own transport fleet providing quality-assured, driver accompanied nationwide heat exchanger, engineering services, metals and plastics supply.
Fabricast Group provides multi-metals and engineering plastics, heat exchangers, calorifiers, sand castings and finished products. Fabricast offers a rapid response service, materials advice and sourcing.
ISO 9001:2008 Accredited

Fabricast is an ISO 9001:2008 accredited manufacturer, stockholder and distributor of multi metals, engineering plastics, acrylics and plastics for sign and display.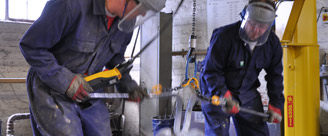 Latest News
Fabricast anniversary 1986 - 2016
Fabricast is proud to announce our 30th Anniversary. Whilst the business roots go back a few years before, the business became incorporated as Fabricast Group Ltd in 1986.

Fabricast Connect Technical Support
Fabricast Connect is your dependable supply chain resource; a comprehensive material procurement and technical support solution.